I couldn't have chosen a better name for my music project if I tried. I seem to be forever falling short lately or so it seems. Days, weeks, even months go by and my partner and I look at each other and say what a great little life we've got going. Just when things start to look rosy, along comes a sequence of events that seem to turn everything sour, or that's how I feel anyway.
After four years of being clean last month
, I think the universe is really testing me lately. I was employed to undertake a special project at work which sent me up to 200 kilometres away from home. I've been along country roads (making friends like above), up hills, down dales, along the beautiful coast roads of the Sunshine Coast and then taking the long trek home with absolute idiots on the highway. By the time I've got home, I've been absolutely exhausted. I've managed to have a bit of dinner and just pass out. No time or energy for
anything
!
Just as the project is coming to an end, we get flooded, AGAIN! That's the third time this year. We still haven't cleaned up since January because we've been waiting for a plumber to, firstly, quote the job and then secondly, do the work. No one wants to do it. Maybe it's too hard or too dirty and they only want the easy jobs. I don't know. It's driving us nuts and me, the neat freak, is going crazy trying to find things and put up with the organised mess that surrounds us.
Just when I feel like I've got time to really start concentrating on my music and spend more time writing here on the blog, I have this to contend with. Everything I touch seems to turn to crap. From that lovely little life we had made for ourselves, everything seems to be going wrong. My Mum's health isn't the best either and that's been playing on my mind plus I've had a few minor ailments to deal with as well.
I know I've probably been sounding like I'm making a 'mountain out of a mole hill' but when you're
an addict
and you live with the addiction every day, it's times like this you could quite easily go back to your old habit. You just feel like throwing your hands up and saying what's the bloody point. Lucky I've had time to settle down, breathe and be thankful for my lot in life.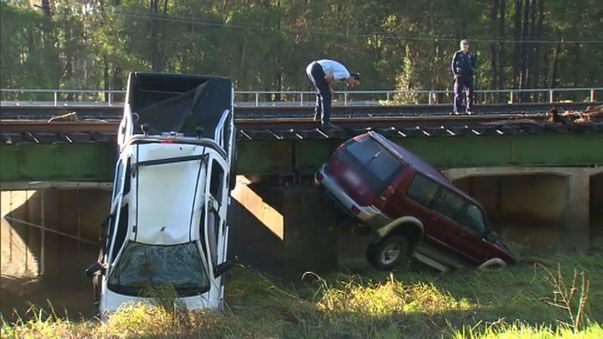 Five people were killed in drowning related incidents over the weekend from the rain we had. That's five people who's families will be mourning for such a long time. Mums, dads, kids who had their whole lives ahead of them, just taken like that. I'm forever grateful that we weren't affected by the weather like these families. I'm so glad we've still got a roof over our heads and food on the table. I'm grateful that I've still got a job I love doing and people in my life who love me for who I am, warts and all. It does take me a little while to get over it but I'm glad I stuck it out and endured the pain of what I was going through.
There's no way I would want to give up this life I've made for myself through
recovery
just over a few little things that have gone wrong. Tomorrow's another day. There will be good times in life and there will be bad times. That's just the natural order of the universe. It's soldiering through those bad times that makes us enjoy the good times even better.